Our Team
We are fortunate to have a team of dedicated, caring people as your pet's healthcare team. Each and every one has been called to this profession by a deep respect and love for animals. We look forward to getting to know you!
Veterinarian

Dr. Dan Atlas grew up in New York and obtained his Bachelor degree in Animal Science in 1998 and his Doctorate of Veterinary Medicine in 2004 from Cornell University. He began his career in a busy small animal practice in southern New Hampshire, but was easily lured to his wife's home state of Colorado (as many of us are) for the beautiful landscape and endless outdoor activities and amenities.

Prior to purchasing Beaver Brook Pet Center from Dr. Manobla in 2012, Dr. Atlas practiced primarily in southwest Denver, including serving four years as the medical director at VCA Dakota Ridge Animal Hospital. Dr. Atlas is a member of the American Veterinary Medical Association, the Colorado Veterinary Medical Association and the Denver Area Veterinary Medical Society (DAVMS). He has a special interest in preventative care and geriatric medicine, but enjoys all aspects of general practice, including soft tissue surgery and dentistry.

Dr. Atlas lives in Evergreen with his wife and two daughters as well as their two cats and dogs, Blue and Hobbes. Dr. Atlas enjoys skiing, running, golfing and playing soccer.

Dr. Arin Clark is originally from Cape Elizabeth, Maine. She received her bachelor's degree in Zoology from Connecticut College in 2000. After college Dr. Clark spent two years working as a veterinary assistant/technician in Boston; followed by one year of work in a human orthopedic research laboratory at Massachusetts General Hospital. Dr. Clark graduated from Michigan State College of Veterinary Medicine in 2007. Dr. Clark then completed a one year small animal rotating internship at the University of Pennsylvania School of Veterinary Medicine in 2008.




Dr. Clark moved to Colorado in 2008 and has been in general small animal practice since. Outside of veterinary medicine, Dr. Clark enjoys spending time with her husband and three children. They enjoy camping, hiking, skiing, playing euchre and traveling to the ocean. Dr. Clark has two rescue dogs named Bergen and Bennett, as well as a cat named Percy.
Certified Veterinary Technician (head technician)

Lance is a Denver native and grew up in Littleton. He started college in Utah, at Brigham Young University, but was a more serious skier than student. He came back home and worked in the Hotel and Restaurant industry for 6 years before finding his niche in the Veterinary field. He graduated from the Bel-Rea Institute in 1990 and then Metropolitan State College in 1993 with a B.S. in Zoology. Lance worked in Littleton as a CVT for 23 years where he met and worked with Dr. Atlas. The opportunity came to work in Evergreen at Beaver Brook Pet Center in July of 2013 and he made the move up the hill. Lance plays competitive Beach Volleyball year round and depending on the season, he loves to hike, bike, snowshoe, and ski.

Veterinary Technician

Cillian has been in Colorado her whole life and has a lifelong love for animals, especially senior pets. She was 'rescued' from a cat shelter and has been with Beaver Brook Pet Center for 2 years. Cillian likes to create art, play Dungeons and Dragons, and spend time with her beloved husband in her free time. At the moment, she has one 6 year old cat named Picket but dreams of adopting another senior kitty.

Veterinary Technician

Becky moved from Alabama to Colorado in the fall of 2020.   She has 5 pets; 2 cats named Kermit and Sweetie and 2 dogs named Gus and Bear. Also a Leopard Gecko named Leonard.  She has worked in the veterinary field for more than 7 years and developed a passion for working with animals at a very young age thanks to the movie Dr. Doolittle.  She hopes to become a veterinarian and open her own practice one day. 

Veterinary Technician

Jamie was born and raised in the foothills of Colorado. She has been in veterinary medicine since late 2019. Her experience with animals started at a very young age and is diverse ranging from cats, dogs, birds and pocket pets to poultry and livestock, as well as a few snakes and lizards sprinkled in. Jamie currently lives in Evergreen with her husband, the youngest of their 3 kids, 4 dogs, 2 ferrets, and several ducks and chickens. She enjoys being outdoors, creating art and spending time with family.
Practice Manager

Kelly was born and raised in Taos, New Mexico and moved to Colorado in 2015. She graduated from the University of New Mexico with a BS in Psychology and Anthropology. In her free time she likes to spend time outdoors skiing, hiking, camping and going on adventures. She lives in Conifer with her husband, daughter and their two dogs, Trooper and Ruby.

Kennel Manager

Liana was born and raised in Colorado. She's had a passion for caring for animals her whole life and has been working in the pet industry for 18 years. In her free time she enjoys camping, hiking, four wheeling, power lifting and antiques. She currently lives in Westminster with her new puppy Gwendolyn.
Client Care Specialist

Sherri grew up in the suburbs of Motown, always with a pet at her side. During that time, her family took many road trips to Colorado, where like many, she fell in love with the Rocky Mountains. It became a dream to live in them one day! After serving decades in a fast-paced TV production and design career, she followed her heart by moving to a more community-based and pet-oriented career closer to home in the mountains. She enjoys combining her past customer-service experience with her life-long love of animals!

She and her husband have raised their two children and eight family dogs here in Evergreen. They currently have a redbone coonhound and a funny little rescue-mix that always keeps them smiling. Sherri says she is blessed to be able to "work" at Beaver Brook Pet Center, where her family has been taking their own pets for over twenty years!
Mack was born in Hawaii on the island of Oahu, but was raised in Colorado since she was a toddler. She always knew she would work with animals someday, and now she is a student at Community College of Denver studying to become a Certified Vet Tech. She loves applying everything she learns at school to working here at the clinic. If there is any time outside of work and school, she loves to read, play video games on her computer and plead with her husband to let her get a cat! 
---
In Memoriam

It is with heavy hearts that we announce the passing of our close friend and colleague, Dr. Don Kammerzell.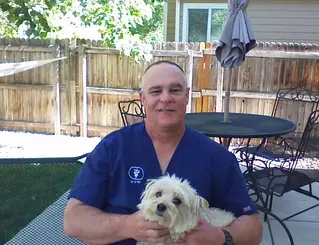 His obituary can be visited here.