Protect Your Pet When Disaster Strikes
In light of the recent tsunami crisis in Japan, the American Veterinary Medical Association presents an informative video that reminds pet owners to include pets and livestock in emergency plans.



Posted: March 29, 2011, 3:00 a.m. EDT
In the short video, Dr. Heather Case, the American Veterinary Medical Association's (AVMA) disaster response expert, details the simple plans and precautions that pet, horse and livestock owners can undertake to protect their animals if disaster occurs.

"Taking care of pets can be one of the most rewarding jobs of everyday life, but many of us are completely unprepared to protect our animals in the event of a disaster like an earthquake, wildfire, tsunami or flooding," Dr. Case explains. "Recent events remind us just how desperate disaster situations can be."

The video demonstrates how to prepare a disaster kit with information and supplies that will allow you to evacuate safely with your animals.

"One of the best ways to make sure you're prepared for your animal in a

disaster is to create a disaster preparedness kit," Dr. Case says. "You'll want to include food - at least a week's worth - fresh water, any medication your animal's on, a current prescription, as well as any health and veterinary records."

The kit should also include a list of contacts and phone numbers, as well as a recent photo of you and your pet for identification purposes.

"Perhaps the most important element of a disaster preparedness plan is proper identification for your pet," Dr. Case says. "During an evacuation, the likelihood of being separated from your animal is much higher, and proper identification is the only way to ensure you will be reunited."
Dr. Case emphasizes the importance of using both microchip identification and ID tags. If your pet loses his ID tags, microchip identification will keep him properly identified.

"It's not difficult to put together an effective disaster plan and kit that will help you to protect your pets and livestock, so I encourage everyone to do it," she says. "It's too late once disaster hits." To view the video, click here. For more information on disaster preparedness, visit the AVMA website.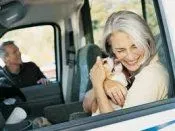 This article is from http://www.catchannel.com/news/2011/03/29/protect-your-pet-when-disaster-strikes.aspx