Help your Mutt lose his gut!....and Kitty too!
Ah, yes, weight loss can be a touchy subject. Goodness knows, human obesity has reached epidemic proportions, so is it any wonder our pets are also struggling with their weight?
As veterinarians, we see animals of all shapes and sizes walking through our doors. And over the years we've seen a pattern emerging: Pets are losing their hourglass figure. Yes, friends, pets are supposed to have an hourglass figure!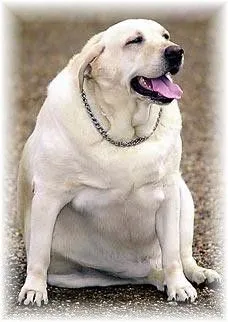 Instead, we're seeing many pets who could either be used as or be mistaken for the coffee table! In other words, pets are becoming… chubby! To put it plainly, our pets are getting fat.
There are several factors involved in this phenomenon:
1. Too many calories going down the gullet-either too much food being fed, too many snacks being offered, or the wrong type (quality) of food being given (the doggy/kitty equivalent of McDonald's).
2. Too little exercise provided-our pets have become couch (bed, rug, and floor) potatoes right along with their humans.
3. A medical problem such as an endocrine imbalance such as hypothyroidism or Cushing's disease.
In other words, the same problems that plague the human race, resulting in increased body mass and decreased health, occur in our pets.
But there is hope and we are extending a hand to those of you who need help.


If you feel your pet may be overweight and perhaps less than optimally healthy, we ask that you come see us. We will weigh your pet and evaluate his/her body condition score at no charge. Based on these findings, we will make recommendations. A thorough physical exam with lab work may be indicated if a medical condition is suspected. If not, we will suggest a diet and exercise program to get your pet back in the best physical shape possible.

For some great suggestions on getting your pet fit, check out Parade.com and www.petfit.com for videos, tips and exercise ideas.

We look forward to seeing you soon.
** ASK US ABOUT OUR DOGGIE BOOT CAMP!! HELP YOUR PUP BECOME A LEAN MACHINE WITH OUR DIETARY PLAN AND EXERCISE PLAYTIME! **